HFK Engineering about the Puls Fishing Project
"The share that Brunelco electronic innovators in Haaksbergen supplied to the now so successful Pulswing for the Dutch fishery was essential," explains Harmen Klein Woolthuis. He and his company HFK Engineering from Baarn had thought about how the Dutch fishery could catch flatfish using a very sustainable and energy-efficient method. But for the development of the electronic finishing touch, he really needed specialists in electronics. He found them at Brunelco. "The total fish yield remains more or less the same, but the profit is mainly due to the drastic reduction in fuel consumption (60%!). With the SumWing pulse, the sector saves around 400,000 litres of fuel every week. Moreover, the seabed remains virtually untouched. And because only adult flatfish are sensitive to the electrical pulse emitted by the 'fish arm', the unwanted by-catch of small and young fish species is minimal. Also in the context of sustainable fishing, great results!"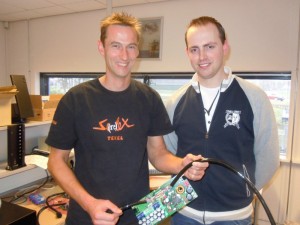 'Pulse fishing'
Harmen Klein Woolthuis of HFK Engineering from Baarn came into contact with Brunelco in Haaksbergen almost five years ago. "I was looking for a party that could develop electronics for me with which we, together with the fishermen, could further perfect the SumWing. This electronics had to fit into modules designed by HFK Engineering. We carried out the project in collaboration with the Ministry of Agriculture and Fisheries and three entrepreneurs from the sector. Fishing with the aid of electricity sounds dangerous, especially because of the combination with water as a conductor. This danger has been eliminated by galvanically separating the voltage on the electrodes from the ship. The old nets dragged behind the ship with heavy cables to scare and catch the flatfish, which was hiding under the sand. The Pulswing emits small, electric pulses of which the flatfish is startled from the bottom and swims into the nets."
No discards
Klein Woolthuis: "The challenge we faced was enormous. The Dutch flatfish sector had a very difficult time due to high costs and strict environmental requirements. There were several problems for which a single solution had to be found. In addition to the high fuel consumption, the undesirable churning of the seabed was a problem. The electrodes of the Pulswing, however, drag in the direction of travel and hardly touch the seabed at all. They are limited to a maximum voltage, so that this new way of fishing is really safe. Catching young and undersized fish (discards) was also a problem. The Dutch fishing industry has been working with the new Pulswing for a year now, and the reactions of fishermen, but also of the Ministry of Agriculture and Fisheries, are undividedly positive.
Great confidence
HFK is an engineering company with in-house expertise in the field of design, calculation and testing of new machines and devices, but is not at home in the world of electronics. Before that, Klein Woolthuis entered into discussions with various companies in the Netherlands. "I chose these companies simply by making a good selection via the internet. Brunelco emerged as the most suitable partner. What played a role for me was the mentality that the people of Twente are known for: 'don't whine but clean'", Klein Woolthuis laughs a lot. The decisive factor, however, was the time and energy that Han Brunnekreeft immediately put into my project. He sincerely wanted to think along and work on this project. This created confidence. And a great deal of trust in each other is essential when you start projects of this size. In a way, I had 30 families who were breathing down my neck because their livelihoods were in my hands. And so were 30 large ships, representing many tens of millions of euros. That made me feel a lot of pressure with this assignment, especially in the beginning."
Germany follows
Afterwards the choice of HFC for Brunelco turned out to be the best choice. "I met Jasper Vrielink, who had just graduated from the University of Twente. As green as grass but with a fresh view on the matter. Together we spent many hours in the development, testing and further development of the HFK engineering Pulswing. And with results, although we have also continued to decline because, for example, compliance with technical requirements and regulations has created problems. But Han Brunnekreeft and his team have never let us down. I really appreciate that." In the meantime, Brunelco has more than proven itself as an electronics innovator. "The German government and the fishing industry are also interested in our product," explains Han Brunnekreeft of Brunelco. We hope to receive a positive signal from the German authorities soon."
Brunelco electronic innovators
Would you like to know more about solutions that Brunelco can develop for you?
Mail or call  +31 (0) 53 573 11 00. A no-obligation appointment is easily made.