Bluetooth – BLE
Bluetooth wireless technology is a wireless communication system intended to replace the cables that connect different types of devices. Bluetooth wireless technology is used for voice and data connections in a wide range of products, from mobile phones, tablets, headsets, heart rate monitors, automotive technology to medical devices and computers. Characteristic of the technology is the possibility of a high data rate and low energy consumption.
Bluetooth version 5 is the most recent version of Bluetooth technology. This version was presented in London on 5 June 2016. Bluetooth 5 has quadrupled the range by implementing greater transmission power and an encrypted physical layer.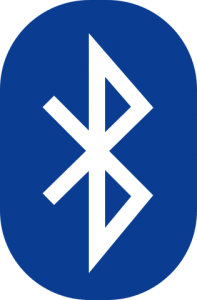 Technology
Bluetooth is een radioverbinding (in de 2,45 GHz band, (UHF) voor spraak en data op korte afstand. Het werkt 'point to multipoint', wat inhoudt dat een enkele bron meer 'ontvangers' kan bedienen. Wanneer twee Bluetooth apparaten een verbinding hebben opgebouwd, dan ontstaat een zogenoemd piconet. Er kunnen op dezelfde plek meerdere van dergelijke piconets naast elkaar bestaan, in wat men een scatternet noemt. Binnen een piconet ondersteunt Bluetooth maximaal acht actieve verschillende apparaten, terwijl er in totaal 127 apparaten een verbinding kunnen houden (deze zijn dan tijdelijk 'geparkeerd').
Normaal gesproken zal het binnen een straal van 1 tot 10 meter functioneren, maar wanneer het zendvermogen wordt opgevoerd, kan zelfs de 100 meter worden gehaald. Een zogenoemde 'zichtverbinding' (elkaar kunnen zien) is niet nodig; dankzij de GHz-radioverbinding dringt het Bluetooth signaal ook door vaste materialen (zolang het geen metaal is).
De communicatie van digitale spraak behoort tot de standaardmogelijkheden van Bluetooth. Bluetooth ondersteunt binnen een piconet tot drie gelijktijdige full-duplex-gesprekken.
Omdat Bluetooth een vervanger is voor de (korte) kabels, kan het worden gebruikt om allerlei apparaten met elkaar te laten communiceren. De ontwerpers hebben met opzet gebruik gemaakt van een goedkope radiotechniek, zodat Bluetooth zonder veel bezwaar in ieder apparaat kan worden ingebouwd. Omdat Bluetooth normaal gesproken ook weinig stroom verbruikt (30 µA) in 'hold mode' en 8-30 milliampère bij een actieve verbinding, kan het ook worden toegepast in mobiele apparaten die afhankelijk zijn van batterijen. Vanaf versie 1.2 gebruikt Bluetooth frequency hopping, of Adaptive Frequency Hopping (AFH).
Bluetooth apparatuur is verdeeld in 3 verschillende klassen:
Class 1: Ontworpen voor lange afstandverbindingen (tot ~100m)
Class 2: Voor normaal gebruik (tot ~10m)
Class 3: Voor korte afstanden (10 cm – 1 m)
History
The history of Bluetooth starts in 1994, when Ericsson was looking for an inexpensive way to establish communication between mobile phones and other devices via a radio connection. The aim was to make all kinds of cables between mobile phones and PC cards, headphones, desktop devices, etc. superfluous. As the research progressed, it became clear to the researchers that the applications for such a short-range radio connection were numerous.
The technique itself was developed by the Dutchman Jaap Haartsen, who was employed by Ericsson. The name Bluetooth refers to the Viking king Harald Blauwtand (Harald Blåtand) who introduced Christianity in Scandinavia. It was originally the working name of the project, but in the absence of a better name it has also become the definitive name.
In 1998, it was decided to set up the Bluetooth Special Interest Group (SIG) for the development and 'marketing' of Bluetooth technology, with almost all the major electronics companies, software developers and telecom companies (including Palm, Ericsson, IBM, Intel, Lucent Technologies, Apple, Microsoft, Motorola, Nokia and Toshiba) joining soon.
Bluetooth had to be royalty-free and completely 'open'. A frequency has been selected for Bluetooth that is also available worldwide. The 2.45 GHz band was initially a problem for Spain, Japan and France in particular, in France it was already in use for military applications, but since January 1, 2001 this frequency is also available for Bluetooth. The frequency is free, and is also used for baby phones, garage door remote controls, cordless phones, microwaves, and Wi-Fi applications. The first version is version 1.0 and was still suffering from "teething troubles" (it was prone to malfunctioning), which is why version 1.1 was soon released and had been improved on many points.
Gerelateerde Projecten