29 August, 2019
The Internet of things (IoT) has become an integral part of today's world. The number of IoT connections worldwide is increasing exponentially. This means that many communication protocols are available, but which protocol is the right one for your IoT issue?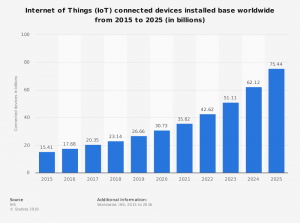 LoRa
LoRa stands for long range and is a specification for a wide-area network (WAN). Within LoRa you have the freedom to build your own network, without a network provider such as KPN. This can be a big advantage in areas where there is no infrastructure or if you don't want a subscription fee. Within the Netherlands, public network coverage is predominantly good, so you can choose what best suits your application.
LoRa provides secure two-way communication. This ensures interoperability between smart objects, without the need for all kinds of complex installations to take place locally. Some obvious applications are: remotely locating objects, remotely opening/closing objects in the field or reporting status or error messages.
Specific characteristics: good penetration into buildings, relatively high infrastructure requirements, limited bi-directional communication, non provider-bound, data rate up to 50 kbps, number of messages unlimited as long as 1% transmission time is not exceeded. Different modules on 868MHz and 915MHz, there is also a 2.4 GHz module coming but that is not world covering.
NB-IoT en LTE-M
The two licensed networks NB-IoT and LTE-M are the responses of the 3rd Generation Partnership Project (3GPP), an agreement between different telecommunication standards, to the increasing popularity of IoT network technology. These networks can connect directly to a mobile network without the need for a gateway.
Narrowband Internet of Things, abbreviated to NB-IoT, is one of the international standards for IoT networks. NB-IoT is a Low Power Wide Area (LPWA) technology designed to efficiently support a wide range of new IoT devices and services and to connect sensors to the Internet. NB-IoT is perfectly capable of meeting the growing demand for coverage. Remote rural areas, underground areas or hard-to-reach areas in buildings are no problem. NB-IoT also has a low power consumption, which means that in some cases a battery life of 15 years can be achieved (depending on the desired intervals and amount of data). NB-IoT applications can be used to carry out measurements that may be of interest to many commercial companies.
NB-IoT can be used to make all kinds of objects "smart". For example, a sensor in a waste container can indicate when it needs to be emptied. NB-IoT is also ideal for Smart Home and Smart Office applications. Here, the low speed, coarse data and high reliability of NB-IoT are used excellently.
Specific features: provider-specific, data roaming possible, data rate approx. 20 kbps, number of messages unlimited.
SIGFOX
Like a Long Range, Low Power IoT connection, Sigfox has been specially developed to exchange small amounts of information between objects and systems. Powered by batteries, one node can send up to 10 years of data. This makes it possible to gain insight into 'things' in an inexpensive way. The possibilities with SIGFOX are enormous: increasing efficiency, insight into product processes, predictive maintenance or the prevention of incidents.
Specific features: long range, resulting in low infrastructure costs. Low data usage, making it suitable for specific applications. Low battery consumption, so hardly any cabling is needed. High security encryption.
Conclusion
Which network is most suitable for your product or solution depends on a number of factors:
How often and how much data needs to be sent
Is the data only sent or also received?
The desired security level
Does anything need to be controlled?
Desired network stability (indoor/outdoor)
Distance to be covered
Interested in a customized IoT solution?
Do you already have a good idea for an IoT solution, or do you want to develop an IoT solution? This is all possible at Brunelco. We are happy to help you develop IoT solutions or various other wireless products and systems. Would you like more information about our services? Feel free to contact us.
T: +31 (0) 53 5731100
E: contact@brunelco.nl